U6 H.E.A.T Wire EDM
VERSATILITY, LOW OPERATING COST, AND USER-FRIENDLINESS
THAT MATTER FOR OPTIMUM PERFORMANCE AND EFFICIENCY
Makino's new U6 and U6 H.E.A.T. wire EDM machines redefine the expectations of versatility and user-friendliness that matter to the EDM industry. The features and technologies incorporated into the U6 and U6 H.E.A.T. provide optimum EDM machining performance for every application, and further reduce wire consumption and maintenance requirements.
The revolutionary Hyper-i control system offers intuitive, interactive and intelligent functions that boost productivity and reduce operator workload. The high-definition, 24″ class size touch screen monitor with Smartphone/tablet functionality makes operation extremely easy and straightforward. With on-board electronic manuals, maintenance procedures and video training system, operators have all of the resources they need to be productive right at their fingertips.
The U6 and U6 H.E.A.T. feature a new cutting technology called HyperCut, which provides superior part accuracy and surface finish. HyperCut is capable of producing a 3umRz surface finish with three-pass machining, and represents a 20 percent reduction in cycle time and 14 percent saving in wire consumption when compared to previous technologies. Materials for steel and carbide have been developed and support both sealed and non-sealed flushing applications. The U6 H.E.A.T. also features Makino's H.E.A.T. (High Energy Applied Technology) technology for unparalleled wire EDM machining speed and accuracy in parts featuring poor or difficult flushing conditions.
Makino has been the industry leader in low wire consumption technologies, dramatically reducing one of the single largest expenses in operating a wire EDM machine. There are no special settings or "part-time" buttons required to experience this saving; every cutting condition, including sealed and poor flush applications, is automatically optimized and designed from the ground up on the Makino for low wire consumption. Together, these features deliver optimum EDM machining performance with an ideal mix of speed, accuracy and wire consumption for the highest level of overall efficiency, throughput and cost. Only Makino can provide this level of performance in every condition and application.
The U6 and U6 H.E.A.T. contain a diverse cutting condition library with over 2,200 settings for many material types and flushing conditions from 0.004″ to 0.012″Ø wire (0.1~0.3mmØ). These settings include optimized conditions for standard hard brass wires, high-speed coated wires and high-taper soft wires. The depth and versatility of the entire cutting condition library ensure that all applications can be machined at optimum productive levels.
The U6 wire EDM machines use a space-saving and highly rigid design. The dielectric reservoir is built into the base casting of the machine, reducing the footprint while improving thermal stability. Part accuracy is further improved with the stationary worktable design, and the automated front-drop door provides excellent access to the machine and workpiece. A dielectric chiller unit, water quality deionization system, transformer and high-performance filtration system are all standard machine features.
Makino has also developed a unique Pro-Tech circuit that provides electronic galvanic protection to the workpiece in order to prevent or minimize rusting and oxidation. This unique Makino technology is standard on the U6 and U6 H.E.A.T. machines, and it preserves the integrity of the workpiece without the need for chemicals.
U6 Configuration:
•  Three-sided hardened worktable
•  Standard capacity dual digitally controlled flush pumps
•  Two-filter filtration system with Air Purge system for easy filter replacement
•  PICO (round) wire guide system
• Tool-less energizer plate indexing system with "one-click" positioning
• Exchanging of wire guides without the need for wire vertical alignment
U6 H.E.A.T. Configuration:
•  Four-sided hardened worktable
•  High-capacity dual digitally controlled flush pumps
•  Four-filter filtration system with Air Purge system for easy filter replacement
•  Split V-Guide wire guide system for reduced maintenance and longer guide life
•  H.E.A.T. technology for the high-speed machining of poor flush applications
•  Standard keyboard, mouse and tray
Major Options:
• Second display screen
• CAD/CAM system
• Large-capacity (44lbs. / 20kg) spool unit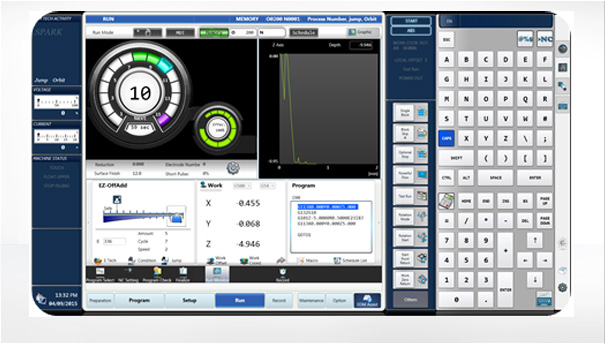 Wire Electric Discharge Machine
Numbers matter. That's why, with more than 140 patents, Makino is the world leader in EDM technology, providing faster processing times and superior surface finishes for even the most complex and involved part geometries.
By combining innovative Makino machine tools and software with game-changing support from Makino Engineering Services, shops of every size are competing and winning the kind of work that matters on the global EDM stage. The flexibility of Makino technology and proven turnkey engineering solutions allows for EDM solutions at all levels to help further reduce operational costs.
BellyWIZARD™ is an exclusive Makino wire EDM technology that automatically selects the optimum machining parameters for those applications that, top to bottom, require exceptionally straight parts. BellyWIZARD meets today's manufacturing demands for lower costs, reduced lead-times and tighter tolerance by providing up to 40 percent improvement in part straightness with fewer passes than conventional wire EDM technology.
Additional Information:
Reduce Belly/Bow
One of the most difficult challenges faced by wire EDM operators is the machining of vertically straight workpieces to very close tolerances. Inaccuracies are usually at their worst in the center of the vertical span of a workpiece. These inaccuracies are typically defined as a "belly" or "bow" in the workpiece. Such an error occurs 90 percent of the time during the initial rough-cut operation.
The advantage of using BellyWIZARD wire EDM technology is that it reduces the belly or bow in workpieces during these roughing operations. By reducing the belly or bow in the rough cut, thus cutting closer to the final net shape, this technology reduces or eliminates the need for additional skim-pass machining.
When skim-pass machining is necessary to achieve finer surface finishes, BellyWIZARD helps to reduce the total cycle time and consumable costs by reducing the amount of error (belly/bow) and remaining material on the final part, thus leading to faster skimming times.
Improved Compensation
BellyWIZARD technology is built into the E-code, so that parameters change automatically with workpiece height. The technology compensates for changes in the wire caused by eroded wear and wire lag. This compensation is done by automatically machining on a slight taper in the rough cut and through adaptive servo movements. The result is that BellyWIZARD produces straighter and more accurate parts without increased wire consumption. The improvement in part straightness can be as much as 40 percent over conventional wire EDM technology. This reduction in both total cycle time and production costs makes your shop more profitable.
H.E.A.T. (High-Energy Applied Technology) is a Makino advancement in wire EDM technology that dramatically reduces cutting times while maintaining exceptional part straightness with one- or two-pass cutting accuracy.
• H.E.A.T. cuts parts 18 to 44 percent faster than conventional wire EDM approaches while holding tolerances of straightness to 0.0005″ (T.I.R.) with one pass and 0.0002″ (T.I.R.) with two passes.
• H.E.A.T. increases skim speeds by 50 to 100 percent in real-world applications and conditions including poor flushing situations, non-sealed nozzle applications, parts with uneven surface thickness and through holes as well as parts up to 6 inches tall.
• H.E.A.T. delivers high-speed performance in difficult, real-world EDM production environments, especially job shops specializing in medical, aerospace and similarly demanding parts.
New H.E.A.T. addresses all types of available wires for cutting tool steels:
• Brass and coated wires
• Paraffin and non-paraffin wires
• High zinc
H.E.A.T. generator enhancements:
• BellyWIZARD™ –  Unmatched part straightness
• CornerWIZARD™ –  Excellent geometry control
• PowerWIZARD™ – Superior wire-break prevention/optimized machining speed and flushing control
SurfaceWIZARD™ is an important innovation from Makino that improves performance in difficult, real-world production of EDM parts for medical, aerospace and other applications where precision and exceptional surface quality is required. SurfaceWIZARD is particularly useful in parts with variable shape, thickness or sudden changes in thickness, such as a stepped part. It also produces excellent results cutting through cross-drilled holes or other similar detail.
Before SurfaceWIZARD, burning parts of this kind would often leave "witness" lines, the telltale lines left at the transition from one-step thickness to the next. To remove witness lines, a part would require either bench work or secondary operations, each of which increases production costs and slows delivery. SurfaceWIZARD technology virtually eliminates witness lines and maintains part straightness.
Benefits of SurfaceWIZARD:
• Minimizes witness lines that occur due to material thickness and stepped changes
• Eliminates wire-break issues
• Improves part straightness
• Achieves more consistent, higher-quality surface finish
• Suppresses errors caused by changes in machining condition variables by employing new generator and adaptive control technologies