The EDAC1 sinker EDM machine is built to deliver the highest level of accuracy and surface finish capability with its refined power generator control and exacting construction. The mechanical alignment tolerances of each axis is 2 microns (0.00008") or smaller over the full stroke, and the machine is capable of producing positional tolerances of ±1 micron (0.00004"), making the EDAC1 purpose-built for a lifetime of repeatable ultra precision. The EDAC1features a stationary worktable design with a three-sided rise-and-fall work tank that provides excellent access for part setup and process monitoring.
The EDAC1 is capable of achieving a smallest inside corner radius of 5 microns, and can produce surface finishes down to 1.3µin Ra (0.25µmRz). The machine's optional Mi C-axis provides positioning index accuracy of ±2 arc seconds, and the core-cooled ballscrew Z-axis stabilizer enables continuous high-speed jump motions with ±1 micron depth control capability. These combined capabilities make the EDAC1 the ideal machine for small electronics and micromachining applications.
Rounding out the impressive list of performance and high-accuracy capabilities of the EDAC1 is the revolutionary Hyper-i control system. With its intuitive, intelligent and interactive functions, the Hyper-i control system offers unparalleled performance and user-friendly operation. Hyper-i brings a completely new level of operational efficiency to the shop floor, as the intuitive and streamlined layout and integrated advanced help functions provide operators with powerful tools at their fingertips.
Technical Information
EDAC1 was designed and built for those industries that require the highest precision possible, superior surface finish and integrity, and minimal inside corner radii. This is the ultimate Ram EDM for applications such as miniature electronics connectors and tooling, IC lead frames, and micro-molds. The EDAC1 is ideal for manufacturing miniature and micro-miniature aerospace, medical and telecommunications parts, and small, intricate carbide tooling.
The EDAC1 has been tested with electronic measuring devices showing it to have repeatability in the sub-micron range. It is capable of producing inside corner radii of .005mm (0.0002 inches) and can deliver finishes down to 0.5µmRy. In order to achieve these world-class capabilities, this next-generation micro-EDM is built in a clean-room environment where temperature and humidity are closely monitored and controlled. Each machine is built and tested in its own environmental area, isolated from other tools being built by pass-through plastic walls and air curtains.
Positional and pitch accuracy of ±0.00004 inches (1.0 micron) is achieved with new mechanical and electronic design. The cubic structure of the EDAC1, with no overhangs at axis limits, contributes greatly to the accuracy of the machine. Other mechanical design features include an integral, liquid cooled Z-axis thermal stabilizer that assures depth accuracy of ±0.00004 inches (1.0 micron), and a newly designed Mi C-axis head that is capable of indexing accuracy of ±2 arc seconds.
The machine's casting assembly is isolated from all heat-generating components by insulated panels, and all heat that is generated is removed from the machine cabin by a specially designed ducting system. For additional thermal stability, an optional thermal chamber is available. This further reduces any thermal distortion of the machine tool due to variances in shop temperature.
The EDAC1 was also designed with consideration for the human operator. It has a drop-tank design that allows full access to the work area from three sides, a height adjustable 15-inch LCD display, and a worktable height of 39.4 inches (1m). These features allow for more comfortable working conditions for the machine operator by reducing lower back strain during setup, measurement and operation.
Productive solutions
Makino has developed many advanced leading-edge generator technologies that improve productivity and capability. The development of these adaptive control technologies provides enhanced machining speeds while delivering optimum accuracy, uniform surface finish with superior edge and metallurgical quality, destructive DC arc protection and low electrode wear.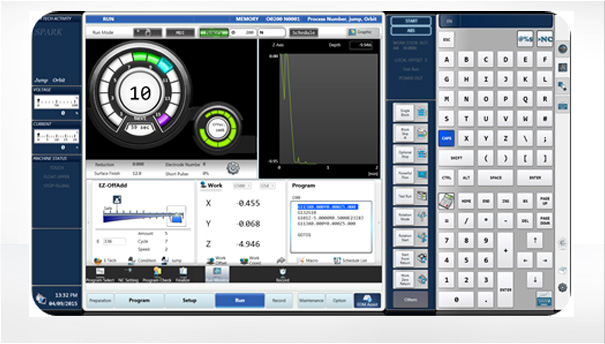 •   HyperCut: This special generator setting provides improvement to machining speeds without increasing electrode wear or required electrode reduction amount. HyperCut can be used on part details up to 30 amps, and improves machining speeds by up to 30 percent without affecting surface quality.
•   SuperSpark™ IV: This family of technologies utilizes dynamic power supply adjustments and jump motion control during the machining process. It enhances automation and unattended operation capabilities by eliminating the need for external flush lines and increases the control's ability to maintain higher cutting speeds regardless of the application or operator's experience level. Reduction in rough machining cycle times can be achieved when using SuperSpark™ technology regardless of the shape, size or depth of cavity.
•   ArcFree: This set of safety-focused settings virtually eliminates the possibility of the machine developing destructive DC arcs during the course of a burn. ArcFree technology, coupled with Makino's extremely fast servo control response time, enables safe, unattended burning, even when the current applied to an electrode exceeds its maximum current density. While arc prevention has been a part of all modern sinker EDMs, ArcFree technology is the next advancement in intelligent adaptive controls for prevention of DC arcs.
•   Flower pattern: Special conditions were developed to obtain a uniform Ra value surface finish with a large RSm value to improve the performance of mold release for plastic injection tools.  The more open structure of the surface finish improves plastic part mold release and tool life while reducing the interval for mold cleaning maintenance.
•   HQSF™ (High-Quality Surface Finish): This optional configuration dramatically improves the produced surface finish of tool steels using copper or graphite electrodes. The technology was specifically designed to eliminate post-machine polishing and produce superior metallurgical results that extend tool life. Makino's HQSF process uses a special µSC powder additive that is mixed in the dielectric oil that enhances the stability and even disbursement of the machining spark energy. HQSF can also provide cycle time reductions when not machining to ultra-fine surface finishes.
•   EDcam™ software: Makino has developed an off-line programming system for Ram EDM that makes use of the electrode and work piece CAD model information. The system eliminates the requirement of having to create paper process sheets for manual data entry of the programs on the machine control, which invite critical human errors. By intelligently utilizing available electronic data, the EDcam software brings the Ram EDM process into the 21st century and provides a means of program simulation and verification without the need for time-consuming, on-machine, dry-run operations.
•   Remote machine monitoring: As part of efficient unattended machine operation, operators and supervisors alike may wish to monitor the machining progress while away from the machine.  Makino offers two software options that provide a means of process updates. The EDM mail option enables the machine to generate e-mail text-based messages on any alarm/stop status or by timed intervals. The EDM viewer option provides direct viewing of the machine control interface on a remote PC.