The EDAF2 sinker EDM machine offers an ideal mix of high-speed machining, high accuracy and surface finish capability to efficiently tackle any job. At the heart of the machine is a robust and rigid structure that provides sustained long-term precision. The EDAF2 has a space-saving design that integrates the dielectric reservoir into the base casting of the machine, which reduces floor space requirements while improving thermal stability. The machine's thermal stability is further enhanced with active liquid cooling of the Y-axis and Z-axis structures that keeps the entire machine at a stable temperature.
The EDAF2 offers a flexible machine design that utilizes a stationary worktable with a programmable rise-and-fall work tank. Operators will find that the machine provides excellent operator ergonomics with superb access to the work tank, and the design simplifies the integration of ATC (automatic tool changer) and automation systems to extend unmanned operation. The EDAF2 is available with an optional 50mm (2.0") and 100mm (4.0") table-down configuration that provides additional depth to the work tank. Operational safety is also a vital requirement, and the EDAF2 features a standard built-in fire extinguishing system and U/V flame sensor that monitors the machining process.
The EDAF2 is loaded with machining technologies that deliver optimum productivity for every application.  Makino's proprietary generator and adaptive power control technologies ensure efficient machining while achieving the highest level of accuracy and surface integrity. Dedicated settings such as HyperCut, SuperSpark™ IV and ArcFree empower the operator with practical tools to accomplish a wide variety of work. The powerful yet user-friendly Hyper-i control system complements and elevates the capability of the EDAF2 into a streamlined package that delivers a paradigm shift in efficiency and productivity to all operations.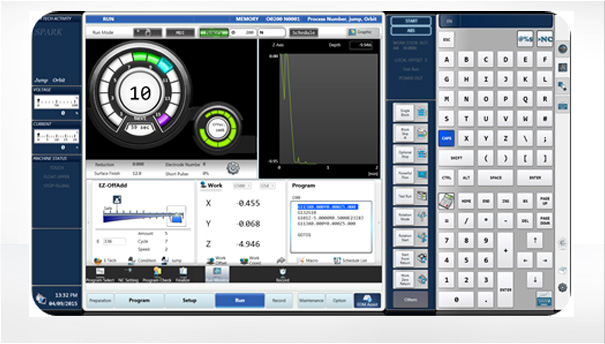 •   HyperCut: This special generator setting provides improvement to machining speeds without increasing electrode wear or required electrode reduction amount. HyperCut can be used on part details up to 30 amps, and improves machining speeds by up to 30 percent without affecting surface quality.
•   SuperSpark™ IV: This family of technologies utilizes dynamic power supply adjustments and jump motion control during the machining process. It enhances automation and unattended operation capabilities by eliminating the need for external flush lines and increases the control's ability to maintain higher cutting speeds regardless of the application or operator's experience level. Reduction in rough machining cycle times can be achieved when using SuperSpark™ technology regardless of the shape, size or depth of cavity.
•   ArcFree: This set of safety-focused settings virtually eliminates the possibility of the machine developing destructive DC arcs during the course of a burn. ArcFree technology, coupled with Makino's extremely fast servo control response time, enables safe, unattended burning, even when the current applied to an electrode exceeds its maximum current density. While arc prevention has been a part of all modern sinker EDMs, ArcFree technology is the next advancement in intelligent adaptive controls for prevention of DC arcs.
•   Flower pattern: Special conditions were developed to obtain a uniform Ra value surface finish with a large RSm value to improve the performance of mold release for plastic injection tools.  The more open structure of the surface finish improves plastic part mold release and tool life while reducing the interval for mold cleaning maintenance.
•   HQSF™ (High-Quality Surface Finish): This optional configuration dramatically improves the produced surface finish of tool steels using copper or graphite electrodes. The technology was specifically designed to eliminate post-machine polishing and produce superior metallurgical results that extend tool life. Makino's HQSF process uses a special µSC powder additive that is mixed in the dielectric oil that enhances the stability and even disbursement of the machining spark energy. HQSF can also provide cycle time reductions when not machining to ultra-fine surface finishes.
•   EDcam™ software: Makino has developed an off-line programming system for Ram EDM that makes use of the electrode and work piece CAD model information. The system eliminates the requirement of having to create paper process sheets for manual data entry of the programs on the machine control, which invite critical human errors. By intelligently utilizing available electronic data, the EDcam software brings the Ram EDM process into the 21st century and provides a means of program simulation and verification without the need for time-consuming, on-machine, dry-run operations.
•   Remote machine monitoring: As part of efficient unattended machine operation, operators and supervisors alike may wish to monitor the machining progress while away from the machine.  Makino offers two software options that provide a means of process updates. The EDM mail option enables the machine to generate e-mail text-based messages on any alarm/stop status or by timed intervals. The EDM viewer option provides direct viewing of the machine control interface on a remote PC .