Metrios is an optical device for bi-dimensional control, which allows operators to perform tests in the process fair and objective quality control.
Metrios is specially designed to work directly in the production hall during final inspection before shipment.
The equipment is easy to use, just place the piece to be inspected on the mass of the system, press a button and the machine automatically detects the profile piece.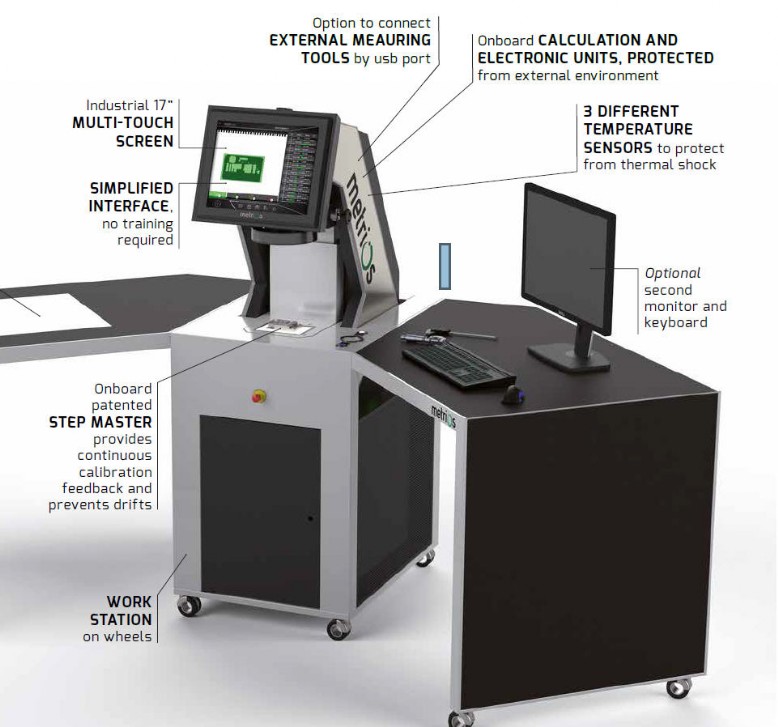 The benefits of Metrios
Measurement parts directly in the production hall means that operators can analyze the tracks near the center of its takeover, and can intervene immediately in the production process to maintain the desired tolerances.
With Metrios can analyze the entire batch of parts, which reduces the measurement time and increase productivity.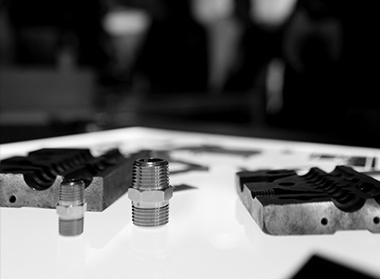 Equipment structure
Metrios engineers chose the materials and construction techniques specifically to a system that can be used directly in the production hall, with no need for a metrology laboratory. The equipment is made of alloy steel to withstand rugged use in harsh environments the production halls. Dimensional calculations combined with the analysis of deformation and the three temperature sensors allow the structure to remain stable Metrios, providing accurate results regardless of where it is used.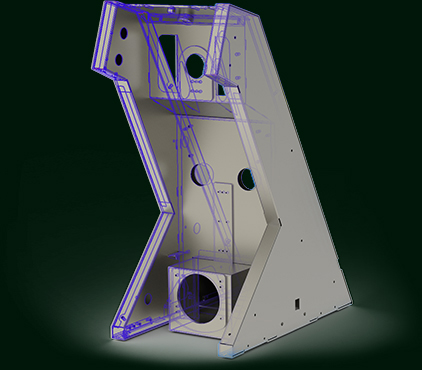 Optical Measuring System
Meters performs non-contact 2D measurements. The system is constructed of a high resolution camera, and three different lighting systems.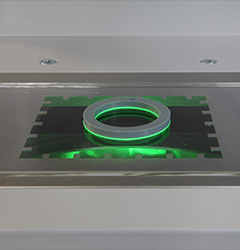 Lighting in the lower – ensure maximum precision and repeatability.
Illuminator integrated coaxial bishop – is ideal for illuminating surfaces uniform, making it possible to measure every detail, such as blind holes, writings or markings.
Illuminator LED ring with 640 programmable 16 sectors – two rings arranged at different angles to analyze every angle of the piece. It is adjustable and can detect chamfers or other elements on the surface. Strong lighting is unique in its category keeps measurements stable and immune to external conditions and variable production hall.
One or more sections of the annular illumination can be selected independently as well as increased each sector. Based pieces on the board orientation measurement, lighting and track position will always ring illuminates from the same direction.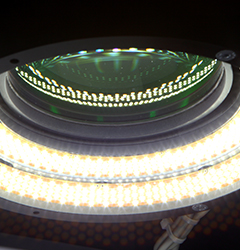 Software
The software is 100% developed by programmers meters and is divided in two macro areas (production and programming) to combine ease of use with maximum versabilitatea.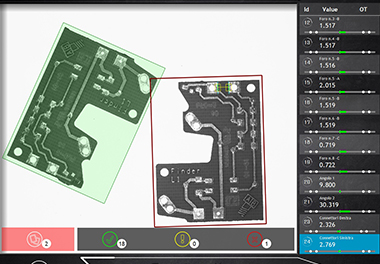 Standard measurements that can be performed with the Metrios:
– Measurements line – line, line – up, line – circumference, intersections circle – circle, flat position known diameter, axis distances, point minimum / maximum.
– Diameter measurements: average, minimum, maximum, mean sphere
– Angular measurements and cone angle
– Ray measurements
– Comparative measurements and mathematical calculi: point distance, compensation, difference, sine, cosine, tangent, etc.
– Measurements of thread: step, height, diameter (maximum, average, minimum, roll), angle crest
– Measurements of tapered thread: step, height, diameter, taper angle crest
– Geometric measurements: linearity, squareness, parallelism, symmetry